First Summer Evening Walk and First Outdoor Climbing for all - Fairy Steps.
A pleasant evening's weather for the first evening walk and outdoor climbing of the year. The walkers met up at the Ship Inn at Sandside and led by Hugh and Angie walked up Haverbrack Bank to the Dog Holes, which cavers know as Haverbrack Pot. The 12m shaft was excavated in the 1950's by Milnthorpe Scouts, and subsequently dug deeper in the 1980's by John Slater, Robin Whitham, and Hugh. The Fairy Steps were soon reached via crossing Cockshot Lane and Beetham Fell. The return was made via Haverbrack and the wonderful view up the estuary. Drinks were taken in the Ship with the climbers joining up with the walkers.
A good start to the outdoor evening calendar.
Before the walk at the Ship Inn, from left to right: Graham,Irene, Colin, Clare, Roger, Val C, Sue, Margaret, Val H, Angie, Frank, two of Colin and Val's grandchildren holding Sally, with Hugh taking the photo.
Midweek Walk - 'Lanes of the Parishes south of Kendal'
Billed as a "10 mile easy circular walk linking footpaths, lanes and towpaths", the walk was led by Tony and Sue and explored some lesser known footpaths and lanes to the south east of Kendal.
Starting in Sedgwick, the walk led along the filled in canal, then across fields to Stainton with its pretty packhorse bridge. Despite following a slow moving road sweeping lorry for a time, the walk led pleasantly along to Summerlands, then crossed the A65 and passed the disused Quaker Burial Ground near Low Park. Birkrigg and Halfpenny were passed, and lunch taken in a delightful bluebell wood by Saint Sunday Beck. Passing the Blease Hall airstrip (how many people know about that!), the group stopped at Blease Hall itself to study the mainly 17C building, though the north wing of the house dates from c1450. More info here. Then up onto the Helm and along to the summit to take in its fine view. Down the western slope to Natland, and back to Sedgwick via the canal and the beautiful bluebells in Larkrigg Woods .
A fine walk indeed, with many interesting aspects, and varying temperatures. Thanks Tony and Sue.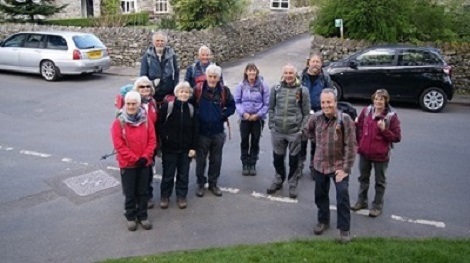 At the start of the walk in Sedgwick.
From left to right: Val, Clare, Hugh, Sue, Norman, Graham, Jenny, Les, Mick, and Irene, with Tony taking the photo.