The first slideshow of the year was a review of the club's, and member's, activities during 2010. Members submitted their photos, and Mick Fox pulled them together to make an impressive record of activities. As usual, it was held at the Strickland Arms, and the photo on the right shows some of the 34 members attending.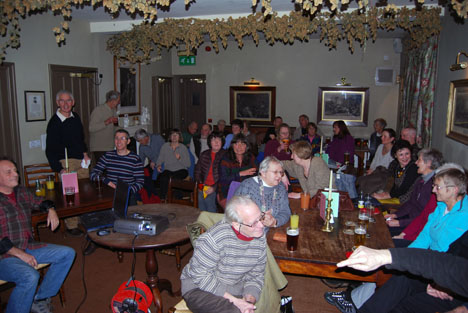 The first mid-week walk of 2011 saw 12 members meeting at Bampton to walk along the river bank and up on to Knipe Scar. After using our imagination to view the stone circle, the sunken trig point was visited prior to walking along the ridge over Knipescar Common to the south east. An interesting descent was made to view High House which is clearly marked on all maps but is nowhere to be seen! The walk back down to Bampton Grange and back to the cars was completed by tea and scones in the wonderful cafe at Bampton which had opened specially for us - thanks to Janet and John. And thanks to Clare and Mick for the walk.
The photo below left shows the lunch stop on Knipe Scar, and that to the right the group in the cold north-easterly wind around the trig point: from left to right - Jean, Margaret, Val, Colin, David, Clare, Tony (in front), Roger (behind), Mick, Sue, with Alan and Hugh off camera.