The commemorative book to mark 2009 as the 75th anniversary of the Club and its use of High House bunkhouse was finally launched at a special event at Kendal Golf Club on Friday December 10th. Special guests included Bill Birkett and Jonathan Somervell, who both wrote Forewards for the book, and Tony Greenbank, the climber and journalist, who contributed a chapter on his memories of High House.
Right shows our President Gordon Pitt welcoming everyone to the launch.
Below left shows the books editor Mick Fox talking about some of the interesting things discovered during research for the book, and below right some of the people present.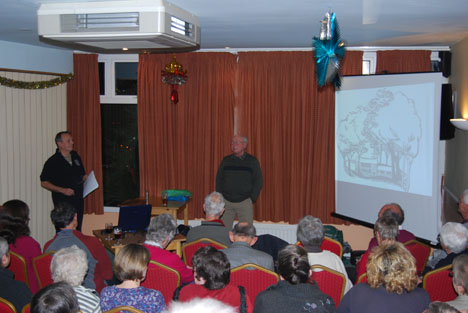 Mick and Clare started the months mid-week walk by having coffee at Wilfs in Staveley - what a sensible idea. Most of the snows had melted, leaving some residual ice on some of the paths. The route led through Staveley Park, up to Potter Tarn and on to a frozen Gurnel Dubbs for lunch. The route back was via Littlewood Farm, where there were wonderful views up Kentmere in the evening light, and onto Craggy Woods which were magnificent. Tea in Wilfs rounded an excellent day for the 13 Fellfarers present.
Below left shows the lunch spot at Gurnal Dubs, with Mick relating his duck story. From left to right - Colin & Val Hunter, Roger & Margaret Atkinson, Val Calder, Frank Haygarth, Graham Ramsbottom, Jean & Fred Underhill, Mick Fox, Angie Mitchell, and Clare Fox, with Hugh Taylor behind the camera.. Below right shows the lovely crepuscular rays over Gurnel Dubs.
Bottom left is descending to Potter Tarn, and bottom right the delightful light in Craggy Woods.