The mid-week walks, now styled Mid-Week Meanders, moved over to the Howgills for the May outing. Starting with morning coffee in the superb Cross Keys Temperance Inn at Cautley, the 13 strong party walked steeply up by the side of Cautley Spout to arrive at a lovely Andy Goldsworthy sheepfold. Looking at the project web site, it is described as a "restored washfold with built-in cairn to celebrate sheep farming renewal", and is well worth checking out. Then up to Calders for lunch, and a descent via the ridge heading south from Great Dummacks. As the rain started, the group broke off eastwards steeply down the fell side to pick up the track heading north back to the starting point. Tea and cakes in the Cross Keys rounded off the day nicely.
Top right shows Mick and a very dry Cautley Spout.

Bottom right was taken at the lunch stop on Calders, and shows from left to right, Jean, Margaret, Colin, Roger, Val, Mary, Nancy, Fred, Mick, Clare, Jo, and Norman.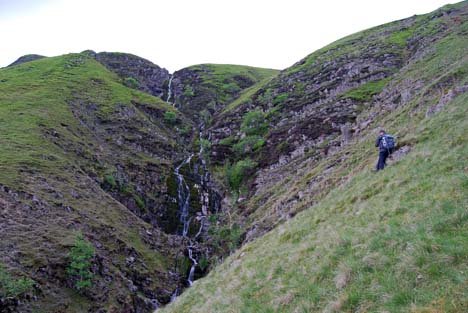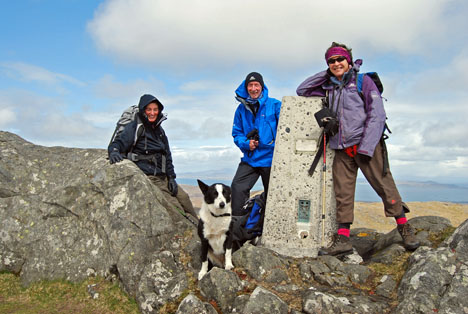 Hugh and Angie, went with Sam and Elaine Bracken on a camper van tour of the Outer Hebrides. Starting on Barra, they worked their way up through the Uists and Benbecula, to finish on superb Harris with their friends Anich & Merlin
The photo left shows Elaine, Sam, and Angie on Heaval, the highest point on Barra at 1255 ft.
Climbing continued outdoors, with this group of photos all on Dow Crag.
Right shows Alan and Bill finishing a climb at the top of 'A' Buttress, and below left on Arete and Crack.
Below right shows Jason on Arete Chimney and Crack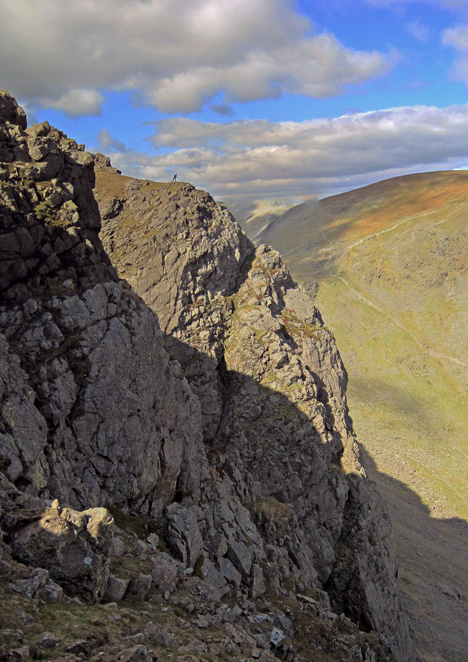 The Isle of Man, whilst not the best island for walking in the UK, still has much to offer in the way of coast line (especially in the south west) and interesting hills. Mick and Clare spent a week on the island, and below left shows Mick on the summit of Snaefell, with below right Clare on the summit of North Barule.